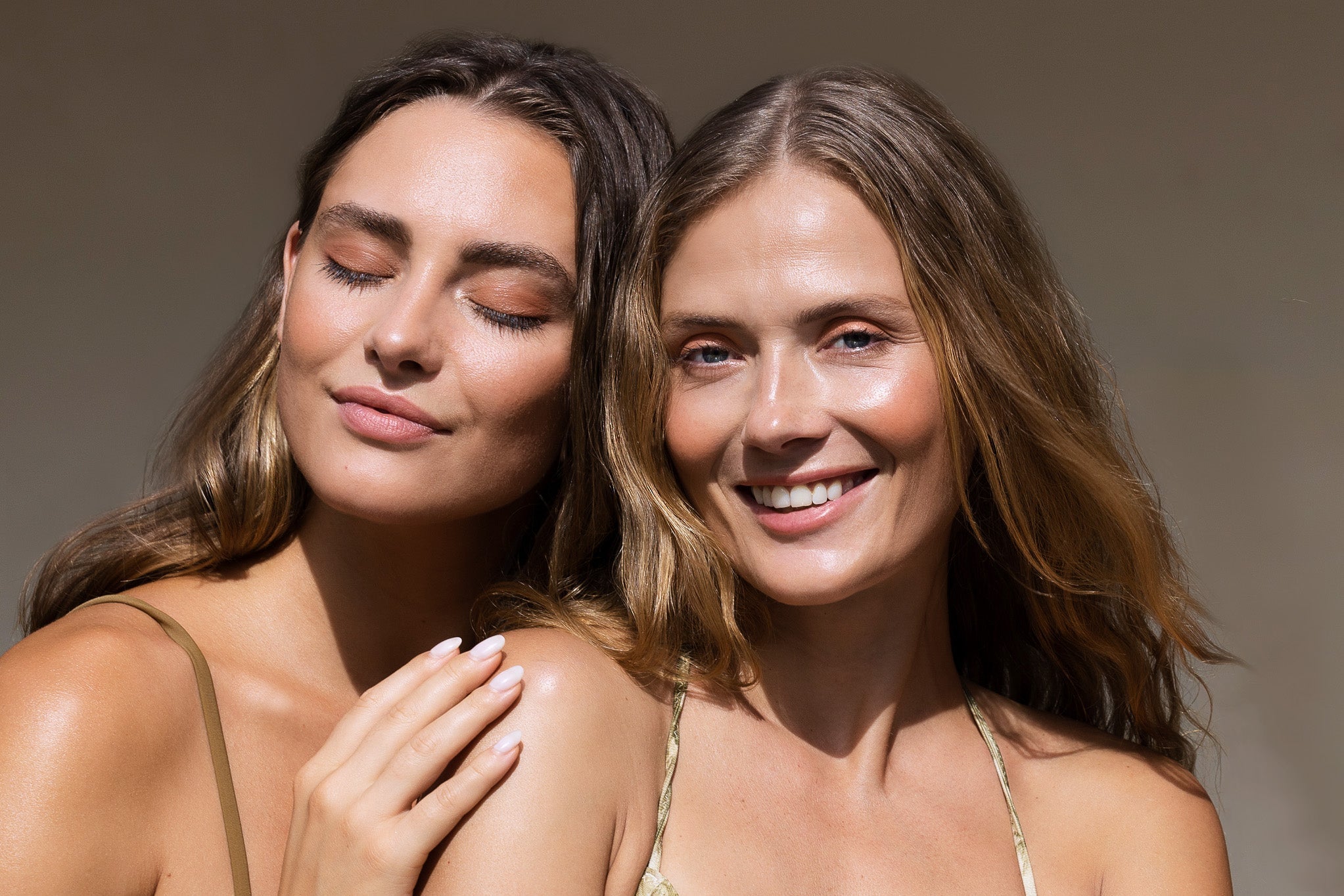 How To Pull Off A 'I Woke Up Like This' Glow With Minimal Effort
Waking up with dewy skin isn't so much a life goal as it is a need, now more than ever. 
Effortless beauty or 'easy beauty' as it's been dubbed by Vogue is officially the latest skincare trend after the slow self care era of lockdown's past has officially come to an end.
Easy beauty, as it suggests, speaks to the evolution  of our collective consciousness right now, where our needs have moved away from long indulgent self care rituals and 10 step skincare routines to a yearning for intelligent skincare products, short developing tans and simple routines that don't require hours of investment to achieve glowing results.
As makeup artist Bobbi Brown shared of easy beauty, "I care… more [now] about when you look in the mirror two minutes before you go out [and wonder] what you can do in those two minutes with a couple of products to make yourself look a bit less shit." 
In keeping with her two minute sentiment, but going beyond her modest intentions, we believe looking your most radiant self is possible from the moment you rise. It all just comes down to three factors: an easy skincare game, healthy daily rituals and the right products in order to pull off an effortless 'I woke up like this' glow (minus the two hour home facial prep).
While slowing down and indulging in skin rituals that feel good is always a treat, we get that life is busy. Rather than trying to carve out an hour or two that may not be possible, save on stress and lean into a few simple tools and tricks to develop radiance from the get-go.
For a self care game centered on ease and overnight success follow our tips below.
How You Can Achieve A 'I Woke Up Like This Glow' Overnight

Four easy ways to uplevel your skincare routine for no-fuss instant glow up results. 
1. Up your daily water dose


It may sound like a no-brainer but you only need to look to the skincare secrets behind Hollywood's most effortless beauties like Kendall Jenner or JLO to be reminded why hydration should be high on your radar.
Both women, known for their dewy glows, are pro water drinkers (according to Byrdie )and admit it's a habit they make sure to prioritise - alongside exercising and getting enough sleep.
If topping up a glass of water throughout the day can lead to waking up afresh then we're all for it.
So how much should we be drinking? Research shows that two litres is still the golden number for supporting skin's physiology and increasing overall vitality, hydration and suppleness. 
Alternatively, if you've not got your litres in before bed (such as after a few cocktails) you can cheat your way to hydration in seconds with our Three Warriors Face Tan Aqua Mist. Made with Tasmanian spring water, it'll give skin a H20 top up from the outside in. Simply spritz and sleep for an overnight glow.
2. Go for gradual
Gradual tan is a saviour when it comes to all things effortless skin care.
Just as you would apply a body moisturiser after the shower, a gradual tan can be smoothed over skin in much the same way, it's low fuss, won't streak your clothes or sheets (or require much tanning application time) and allows you to wake up sun-kissed and ready to seize the day. 
The good news too, if you invest in our Three Warriors Gradual Tan you will get a 2 for 1 product that's part organic tan part moisturiser - with our tan containing plant based olive, coconut and avocado oil derivatives as well as aloe vera for hydration. 
Our gradual also won't leave you with a lingering toxic tan scent, think a delicate lime and vanilla blend instead that won't feel sticky or ruin your bed sheets.
As simple as three steps: shower, smooth over skin and hit the sheets for quality sleep-  it's a yes for us.
3. Add in oils
We touched on oils above and how many delicious ones we feature in our tan, but when it comes to that plump dewy glass skin look you can never go wrong by adding a face oil into your day and night routine.
Contrary to popular belief, face oils do not make skin more oily, the right face oil should compliment your skin type and provide a concentrated dose of vitamins, minerals and omegas.
By infusing the right face oil into your routine depending on your skin type (think oily, dry or combination skin), you will keep skin hydrated and your skin barrier protected, according to Adore Beauty.
For a round up of plant-based oils to suit your skin type check out this face oil guide from Adore beauty or as a general guide look to rosehip, avocado, hemp seed and noni and jojoba oil (we love Rejuvenating Face Oil by Habitual Beauty).


Apply 2-3 drops to finger tips to massage into skin and follow up with a hint of moisturiser to seal, absorb and increase hydration before bed. 

Or for a full body glow also add a layer of Three Warriors Gradual Tan for an oil top up and tan in one.
4. Cleanse and clear regularly
Repeat after us: clean skin is glowing skin. It doesn't matter what age you are or skin type, the ticket to achieving a healthy glowing complexion is cleansing and exfoliating regularly.
While it's been long ingrained in us that taking our makeup off before bed or washing our face in the AM is a essential to clearing the slate, we often don't realise how much buildup occurs at a deeper level of the dermis - with skin cells, oil and urban or makeup debris often simultaneously blocking our pores at once.
Like any artist knows, you always start with a blank canvas and build from there. The best way to clear skin properly is by being intentional with your skincare routine: think a double cleanse and a regular exfoliate two to three times a week.
What is double cleansing? Well in simplicity it's about cleansing twice (one to remove makeup and one to clean deeply) but if you want to really level up and follow the K-beauty trend, it means using two types of cleanser micellar oil to remove makeup and a gentle cleanser to clean. 
Either way, no matter your cleansing arsenal of choice follow up after with a gentle exfoliating scrub such as our Three Warriors Tasmanian Sand Scrub. To exfoliate, squirt a spoonful onto fingertips and lightly circle across face in an outwards direction, being gentle to avoid under the eye area where skin is sensitive and prone to fine lines and using only a light touch.
Once in a regular cleanse and clear rhythm, you will keep on top of both surface and deep level impurities, leaving skin open and able to shine through from the inside out. 
Looking to glow up in seconds? Shop our face tan water here or for more on tanning essentials for a low fuss glow up head to our blog here.