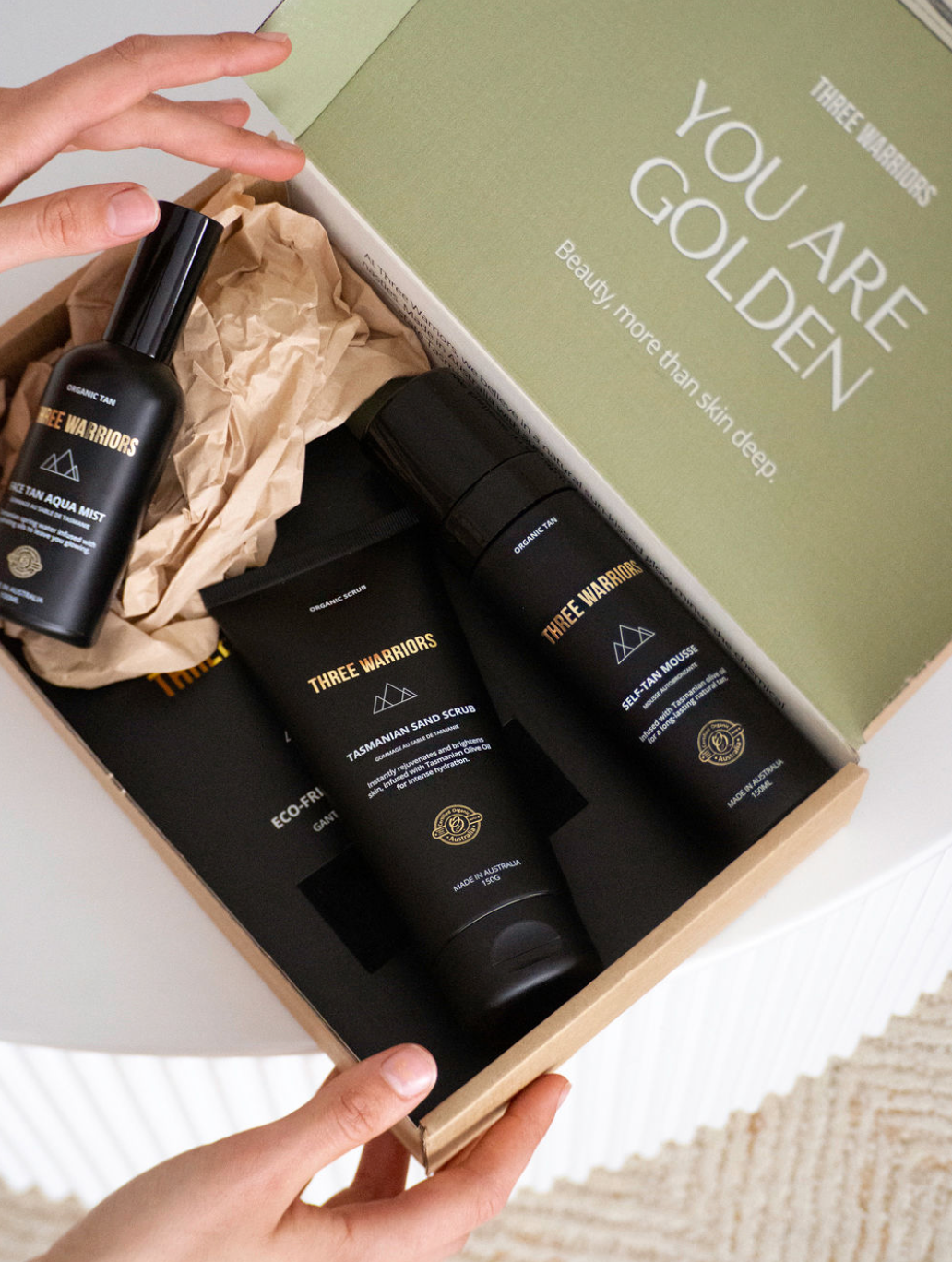 5 Tanning Types And What To Get Them This Christmas
Look good and feel good this Christmas by purchasing plant-based self tan products that everyone will love. 
Tis' the season to be… tanned, at least for those of us in the Southern Hemisphere. 
With Christmas parties in abundance, bikini or board short season on the rise and a high likelihood the temperature and social season will mean a lot of face time, mingling and opportunities to dress minimally,
a tan suddenly goes from being a 'maybe' consideration to a 'must have' asset.
So, if you're feeling called to take the festive season up a notch this Summer and give gifts you know that your lover, best friend or self will actually want to wear more than once, then forgo socks and chocolates this year and opt in instead for self tan, a gift that will keep giving all season long.
The caveat: it must be a quality organic self tan, no tacky or orange tint will get the same look in. Cue our clean beauty collection, Three Warriors, an organic, plant based self tan sure to be coveted by any wearer.

With the right amount of tint, nourishing ingredients that hydrate skin (who doesn't love a 2 for 1 product?) and the ability to give face and body a healthy, dewy glow and confidence boost for the long balmy nights and party season ahead (even on hangover days), our tan makes for unique gifts sure to be crowd pleasers.
Unlike standard fake tan that is sticky, streaky and chemical based, our organic self tan is made with plant based derivatives that nurture skin, smell good and leave you looking and feeling natural; with all ingredients sourced directly from mother nature, from the mountains, fields and shorelines of Tasmania. 
With the festive season often entailing parties, social gatherings, happy hours and beach days, organic self tan is likely to not only be the most used gift but most cherished over Summer, with its natural ingredients allowing the wearer to feel good and glow from the inside out too.  
If you're down to break away from the box of chocolates and spice up your kris kringle, christmas gift or santa sack check out our self tan Christmas edit below.
A Three Warriors Gift Guide For Every Tanning Type
Best gift for… the weekly tanner
This is a shout out for the girl or guy who has their exfoliating regime down pat, knows just how to contour abs and angles with tan and is religious about their tanning ritual.

Devoted tanners, or in other words…those who you have never seen without a tan, are sure to love our full range of Three Warriors cult tanning products. 
In this scenario, we recommend sneaking a look in their beauty cupboard, asking them tan questions or getting a feel for their lifestyle to know what tanning product they prefer for application. 
It's likely if they like to regularly build a dark tan or make it last each week they would be a mousse or spray tan fan. Within the Three Warriors range, we recommend Self Tan Mousse if they love a mitt or at home job. Or if they're next level tanners or are a beauty therapist with a tent, perhaps gift them a Spray Tan Solution to go with their spray tan gun. 
Buy a gift pack: For those that dabble in all the dark arts and don't want to be limited one tan type, spoil them with an all inclusive best selling gift pack - the Sonia Kruger Golden Glow Pack. It contains our full collection of products including scrub and mitts.  Shop tanning gift packs here.
Best gift for… the cautious tanner
Be it your friend,  best friend or you who is new to tanning, the dilemma can often start with, but where to even begin? With gradual tan to self tan mousse, spray tans and body mists there is an abundance of options to choose from which can often make it overwhelming.
We also want to normalise firstly, it is so common to feel worried about it going wrong - often streaky tans, orange tans or 'too dark' tans are what deters people. However we're all about empowering our tanning community and want to make the whole process smooth, effective and delicious - just like our tan.
For those new to tanning we recommend opting for either: Three Warriors Gradual Tan or Three Warriors Body Mist for a light, natural (and beginner friendly) product that's easy to apply. 

We also recommend investing in the Tasmanian Sand Scrub and Exfoliating Glove for prepping skin pre-tan and an Eco-Friendly Tanning Mitt for applying tan, to save hands giving away any tell-tale signs afterwards.
Buy a gift pack: Alternatively, gift the whole tanning experience to a newbie the ​​Three Warriors Dream Team Pack has everything you need and comes with a sneaky discount too. Shop tanning gift packs here.
Best gift for…the man new to tanning
So you or your mate, partner or boyfriend is looking to uplevel their complexion and skin tone this Summer? We are so here for it. You may or may not know our founder is a man - Corbin - and he reps a natural glow like no one else.

We believe anyone can look like a Greek God, Adonis, Capri yacht owner or general 'outdoorsy' kind of guy and that a tan shouldn't be reserved for women only, everyone deserves to look hot. It's more a matter of getting familiar with tan and finding products that are low fuss and do the trick well.
So for those gifting a man new to tanning or for blokes keen to self tan, we recommend starting with a mist to get a feel for the colour and way it suits your skin. Mists are low key and won't involve putting in any hard yards or having to paint skin in a careful way the way self-tan mousse does.
Within our collection, we recommend the Three Warriors Body Tan Aqua Mist and Three Warriors Face Tan Aqua Mist - both are entry level tanning products that are simple to use - think similar to Aloe Vera spray, except minus the sunburn and a glow instead. Spritz after the shower, let the tan settle then go about your day as it develops.

You'll be all Arnold Schwazzeneger or Brad Pitt in a matter of hours…just don't forget to shower first before donning your white speedo or linen shirt and camel pants combo.
Buy a gift pack: Want your man to glow all Summer long? Then we love the Glow Get Em Pack for a little uplift or a Sonia Kruger Glow Pack to treat him to all the tools of the trade.  Shop tanning gift packs here.
Best gift for…new mumma or mumma-to-be
Becoming a mum is undeniably one of the greatest joys in life, but just because you or a loved one is 'expecting' doesn't mean the pregnancy glow is always there.
Depending on the trimester, the degree of morning sickness or fatigue, the concept of a pregnancy glow can sometimes be elusive and even disappointing if you aren't radiating the way society says you should.
Which is why we're big on building mumma's up and giving them the best self care tools to feel their best no matter what season of motherhood they are in - a glow should never be reserved for expecting mumma's or those with certain hormone sets only.
In good news, unlike most fake tans laden with chemicals, our Three Warriors organic tan collection is all natural and made of plant based derivatives - making them safe to absorb and wear, for both mum and bub.
For a gentle option to tide you (or a mum) through the early prenatal stages or fourth trimester sleep deprived stage, we love Face Tan Aqua Mist to start. Spritz on bare skin as you brush your teeth, then even if feeding at night, by daylight you will have cheated your way to a natural glow.
Alternatively, if short on tanning time, treat a new mumma (or self) to a scrub that can be utilised in the shower or when cleansing face in the AM or PM.

The Tasmanian Sand Scrub scrub will keep skin supple, remove dead skin cells, allows for a mindful self care ritual that smells delicious and will nourish skin too thanks to aloe vera and coconut, allowing for a glow to occur, from the inside out (and in little time).
Buy a gift pack: To give a new mum even more ways to glow from the inside and out we recommend the Power Couple Pack or Spring Essentials Pack. Shop tanning gift packs here.
Best gift for… a barely there look
Whether you have a friend who tends to wear minimal makeup or are looking to brighten your own dull skin after Winter but aren't into an overly bronzed look per say, then we've got a few natural options instead.
For radiance in little time (minus pre-emptively drinking 10 litres of water), we love our Three Warriors H20 equivalent, the Face Tan Aqua Mist and its sister product the Body Tan Aqua Mist. 
Made with Tasmanian spring water both products are high on hydration, low fuss to use and come with a degree of ease - the colour will only deepen depending on how long you leave it.

If a deep glow isn't you but a fresh faced glow is, perhaps spritz either product and leave on for only the 3hr set window recommended (rather than overnight) then shower to keep just a hint of a glow.
Alternatively for an in-built moisturiser meets tan product that is an easy-to-use lotion you can smooth over skin with hands (or with Eco-Friendly Tanning Mitt) try our Gradual Tan. Just as we recommend with the mists, leave for 3-4 hr window for a light glow or overnight for a hint of a sun kissed touch.
Buy a gift pack: For a beginner friendly way to get started we recommend the Power Couple Pack or the DreamTeam Pack. Shop tanning gift packs here.
For more on how to tan see our blog here or to shop tanning collection click here.