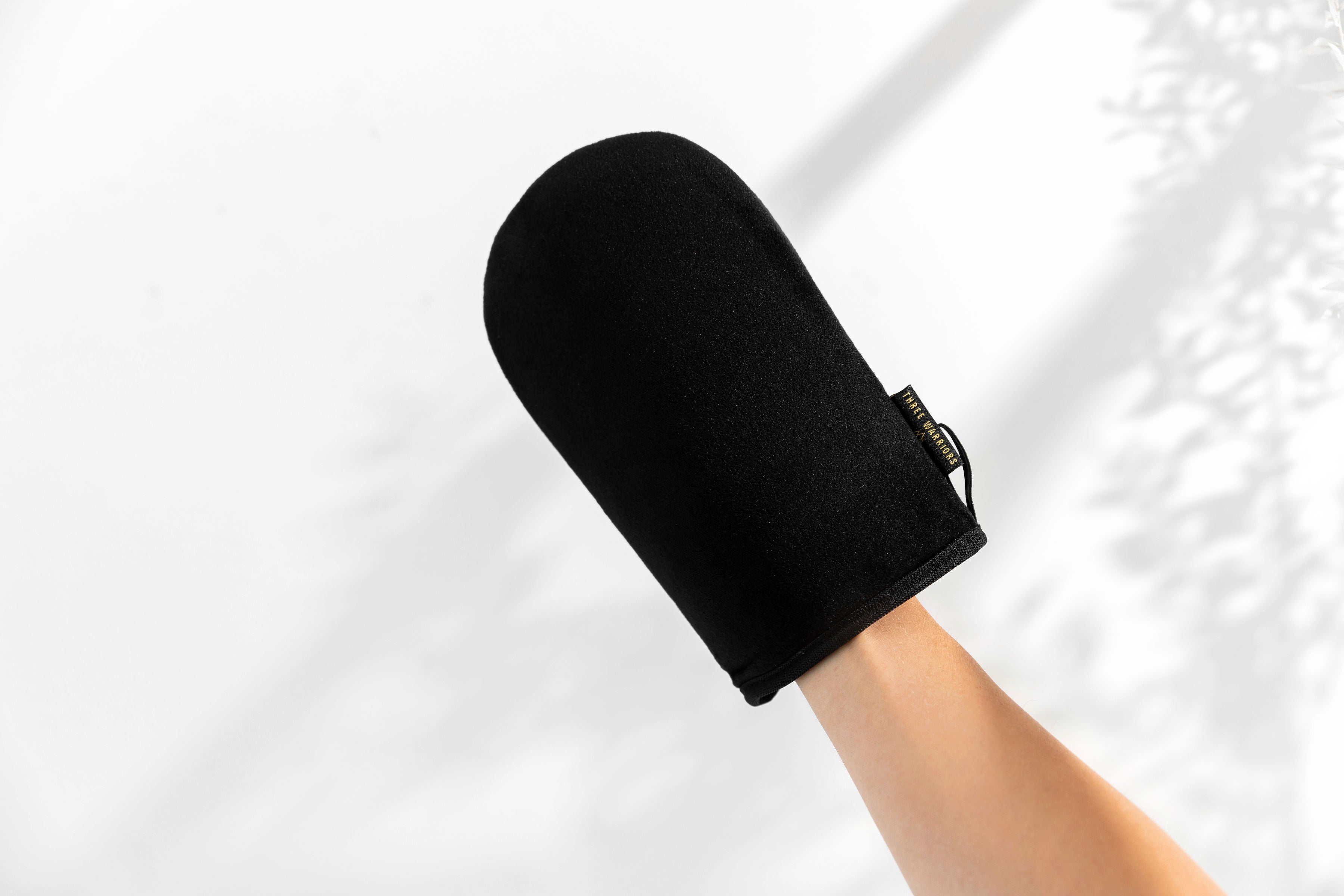 Let's Talk Tan Lines (...and how to get rid of tan lines)
Oh tan lines!
Love them or hate them, tan lines are often considered a part of a fake tan's life cycle.
But here's the thing babes...they don't have to be in the equation at all!
Be it a low key Byron Bay glow or a boasting 'just got back from the Bahamas' dark tan, the right fake tan should always make you feel like a natural rock star no matter where in the world you are (or wish you were!).
It's only when you get a bad fake tan and don't get the right guidance on tanning 'dos and don'ts' that things go South… think splotchy, spotty, awkward tan lines! Ew!
At
Three Warriors
we believe no one has time for that!
Tanning should always be a seamless experience that leaves minimal tell-tale signs and the kind of natural faux glow that lets you forget it's fake tan in the first place. 
So, with that said, what's the secret to an all over sans 'tan line' glow and how do you get rid of tan lines when they dare to show? We've got you sorted warriors, read on for our insider tips and tricks to tanning along with how to get rid of tan lines below.
The Scenario: You're yet to fake tan
You've done your research, you know
Three Warriors
is an award winning natural, vegan and organic fake tan, so you know you're in safe hands. Now what? Well warrior, it's time to get your fake tan on...the right way.
The solution:
Learn how to flawlessly apply fake tan by discovering our three simple tips for creating a flawless skin care routine and tan line free fake tan. 
Exfoliate, exfoliate, exfoliate




Repeat after us: exfoliating scrub is my new best friend. By scrubbing the bod first it ensures you have a smooth, flawless canvas to work with. For the best exfoliating experience, we recommend using the

Three Warriors Tasmanian Sand Scrub

and learning how to exfoliate effectively by checking out our 'how to exfoliate' guide

here

.





Choose your arsenal wisely




The best way to combat fake tan lines is to invest in the right tanning product and know its lifespan. By purchasing Three Warriors

Gradual Tan

,

Self Tanning Mousse

or

Spray Tan Solution

you can trust that our natural fake tans will leave minimal residue, but there is always a chance that tan lines can show depending on the application process or previous residue on the body.





So the best way to swerve unwanted tan lines is to know how long the fake tan you're using will last and then scrub it off before the inevitable happens.





Here is our general guide:





Gradual tan: 5 - 7 days.
Self tanning mousse: 4-5 days.
Face tan: 1 day (best applied daily).
Note: as a general rule of thumb most fake tan lasts well up to five days but after that best bet is to exfoliate and reapply to hit refresh.
Glove up!




Trust us when we say warriors, it's one small investment for one big payoff! Unless you're doing a DIY spray tan, using tanning gloves are the best way to ensure a smooth fake tan experience minus the tan lines!





The

Three Warriors Eco-Friendly Tanning Mitt

is the best fake tan companion you can have. A

velour tanning mitt that's double-sided and machine stitched, it works to seamlessly glide fake tan across the body, providing a streak-free glow and professional tanning experience you can trust every time!




Plus
, by using our tanning mitts you will keep your 'mitts' covered - allowing you to rock a natural fake tan sans the awkward hand or wrist stains.
And let's be honest, there's nothing worse than having to exfoliate for hours after to get rid of tan lines.
For more tanning tips check out our 'How To' page
here
or learn how to fake tan and discover all our favourite tips and tricks
here
.

The Scenario:
You've tanned but now it's starting to show.
The Solution:
Learn how to even out tan lines with our super easy guide that shares how to get rid of tan lines, stat!
#1 Learn your tan lines
When it comes to fake tan lines, there are some that are forgiving and some that are not (i.e. streaky, splotchy, speckly). The best way to get your glow back on track is by knowing what you can and what you can't work with as part of a skin care routine. 
Read on for our tips on fake tan lines and how to nix them stat!
Speckly or spotty tan lines:
So you want to know how to get rid of tan lines (face tan or body lines) that are speckly or spotty? We hear you warrior. Here's the good news: these fake tan lines are the easiest of the bunch.
Specky or spotty tan lines are often the result of not rinsing off the initial tanning residue effectively or they are the result of soaking into pores that are dry.
To get rid of tan lines like these we recommend trying one of the below:
Rinse off:

take another shower to remove excess tanning residue.

Smooth out:

Use a damp washcloth or our exfoliating sand scrub to lightly even out any lingering organic tan residue.

Rehydrate:

use moisturiser to replenish dry pores (especially if you didn't exfoliate before tanning).

Layer up:

If speckles are minimal and you've done the above, add another layer of fake tan smoothly over the skin to even it all out.




Spotchy, streaky or 'liney' tan lines:
So you want to know how to get rid of tan lines that are far from even and have left you looking like you skipped half of your body or forgot to use a tanning glove? We hear you warrior. Here's how to handle pesky streaks along with how to even out of tan lines.
Different to a spotty gradual tan, more obvious patches and lines are often the result of a not-so-great fake tan application. But don't be disheartened warriors it's always solvable!
To learn how to get rid of tan lines that are less obvious we recommend trying the above tips and if no luck then best to start again from scratch!
For best results sometimes the best way to get rid of gradual tan lines is to start with a blank canvas. 
Rinse and repeat:

Jump in the shower and give your bod a full exfoliate to remove all tell-tale signs of fake tan.

Choose wisely:

decide whether a gradual tan, self tan mousse, spray tan is your more trusted friend then start fresh using our 'how to' fake tan guide

here

. 

Apply evenly:

For best results, a tanning glove and natural lighting is always a good idea, just saying!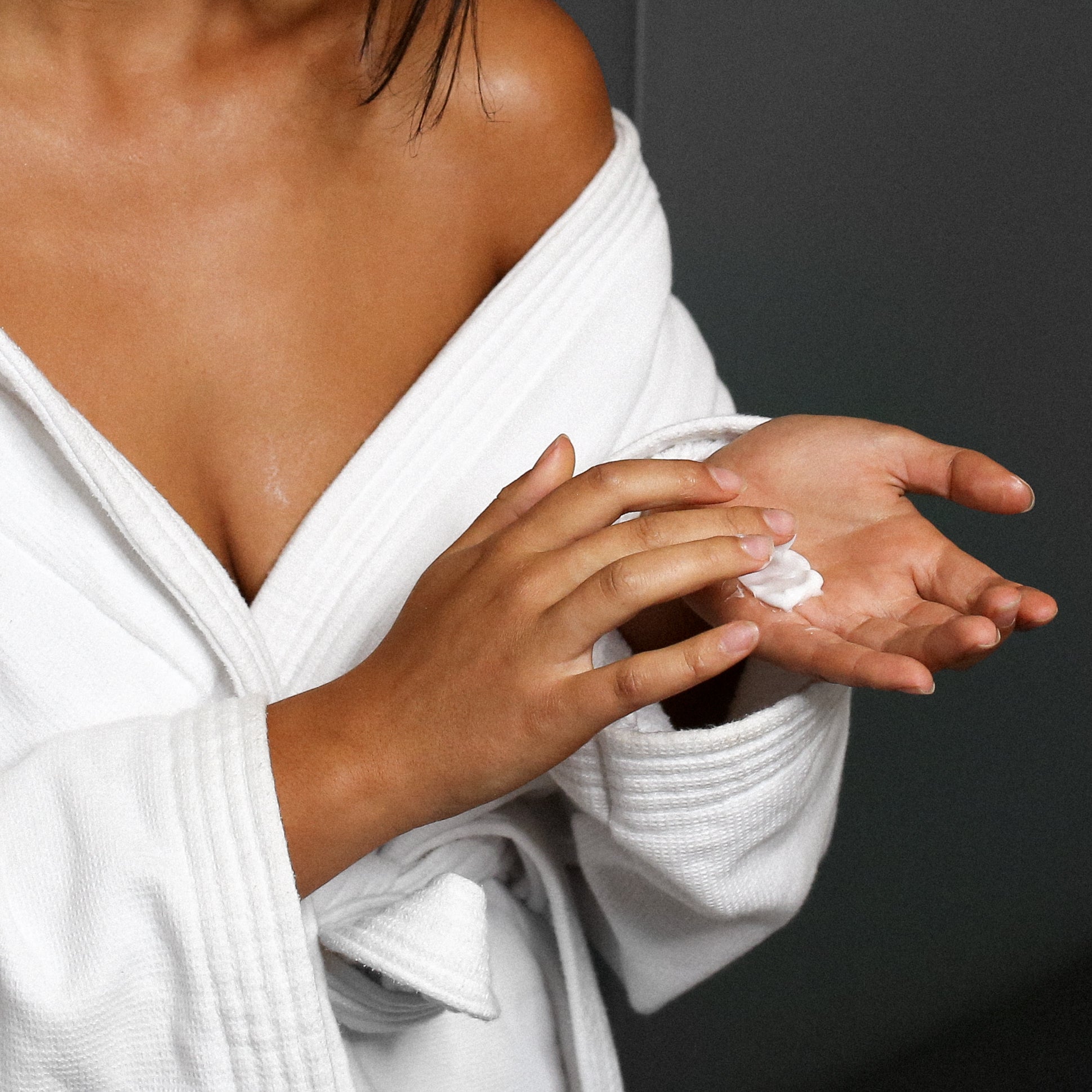 Worried your tan is starting to leave you a little leopard or tiger like in a not so sexy way? We hear you beauties. Sometimes you just need to learn how to even out tan lines. No judgement here!Be...
Read more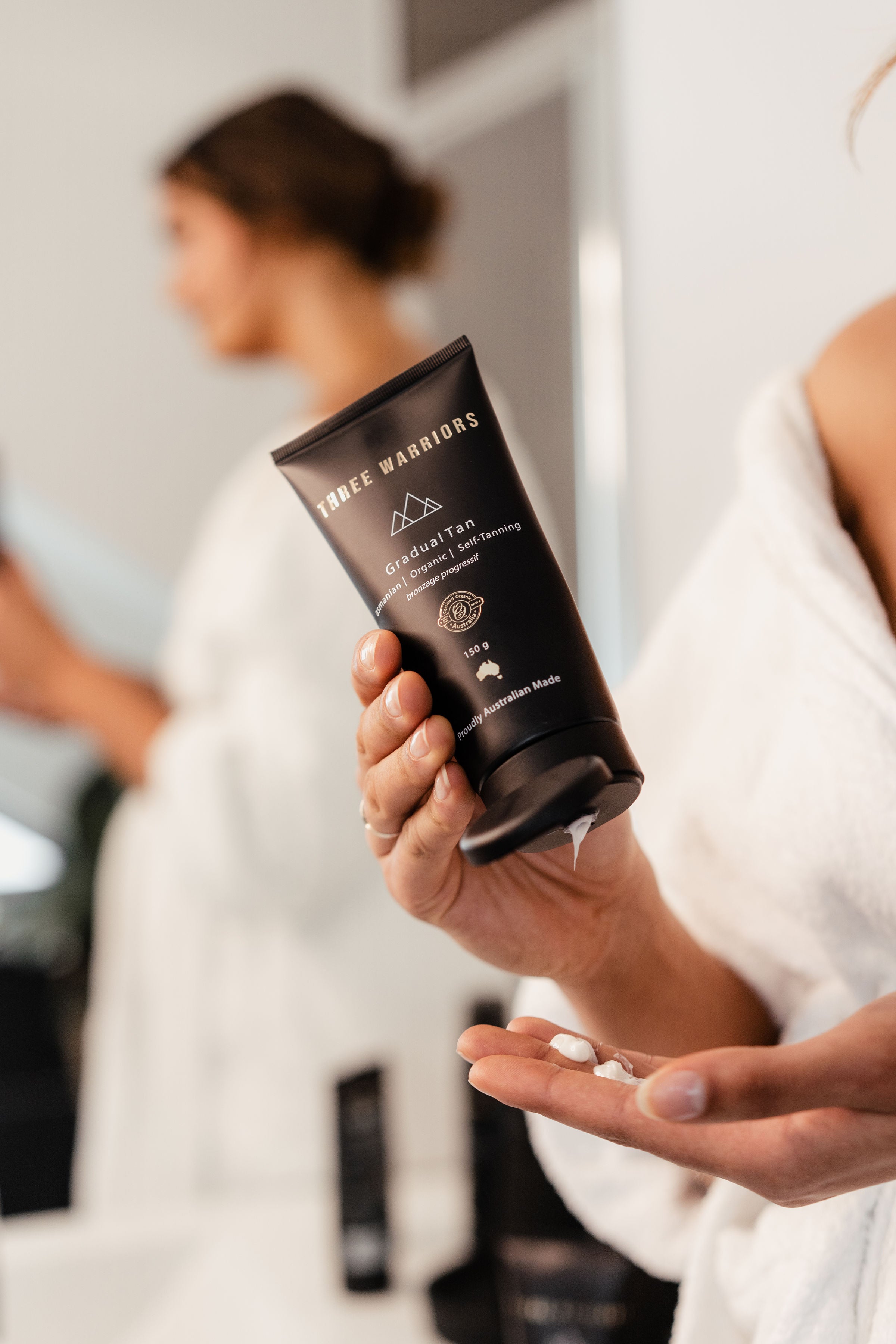 Let's get technical... While we all love a guilt-free glow, the question often on everyone's lips when it comes to developing a sunless tan is always… just how does gradual tan work Or the bigger q...
Read more