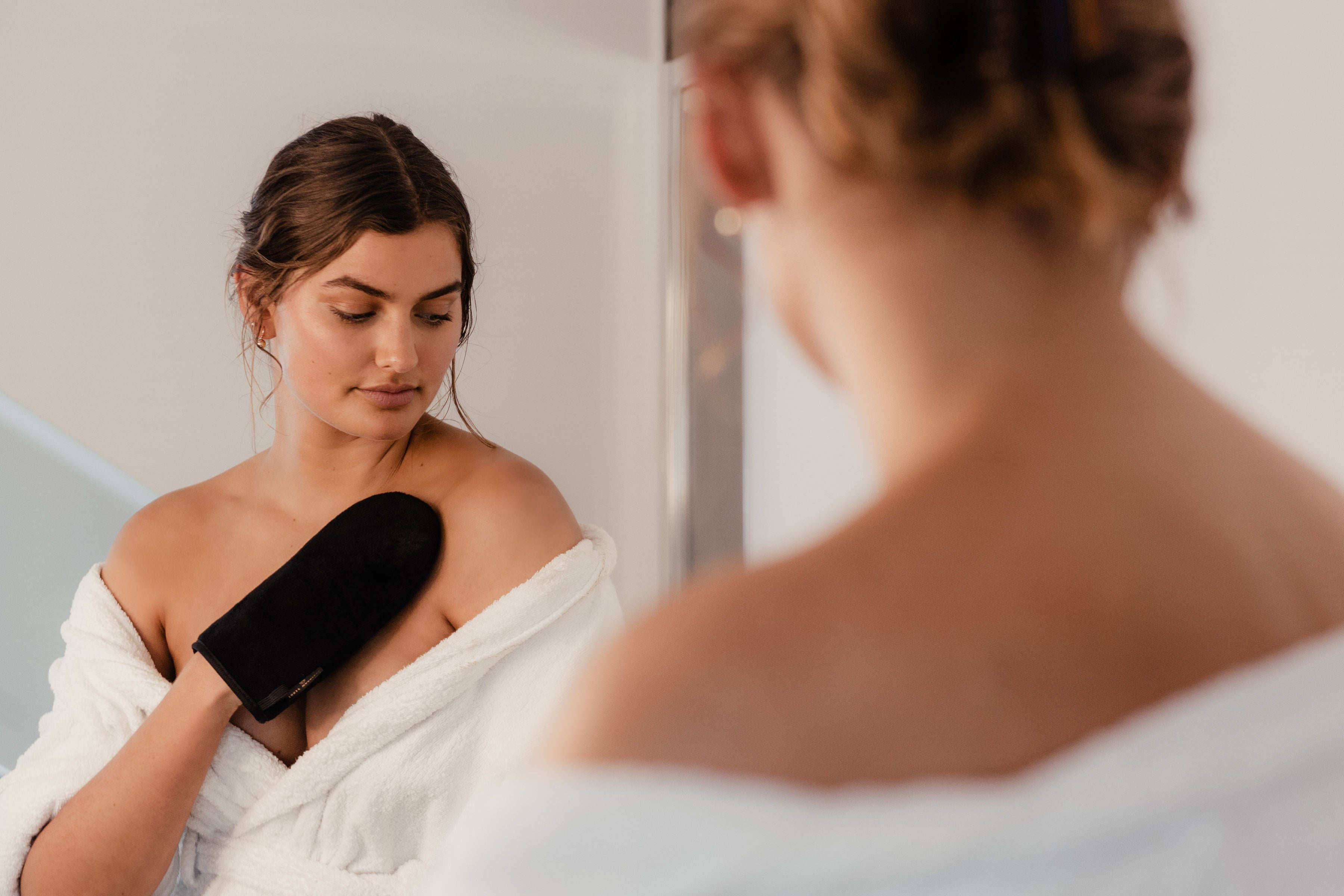 The Three Warrior's Guide On…. How To Fake Tan
Who doesn't want to look good naked or boast an island inspired glow in winter? It's a safe bet if you're scrolling our organic tan site or Instagram feed you are seeking all of the above, no?
However, when it comes to wanting an 'au naturale glow' versus actually achieving it through fake tanning methods, the reality of curating a golden glow you are confident in can feel like two worlds apart. 
While we all love the 'being tanned' part, the fear of developing any tell-tale signs of fake tanning (such as streaks, splotches or a nasty shade of orange) can be real and often if we're honest a big turn off. No matter how many times you may have dabbled in fake tanning, it only takes that one awkward experience that left you a little more 'oompa loompa' than 'bronzed goddess' and your chances of trying again are left slim to none.
But the good news is we get it and with gentle guidance and a few encouraging nudges and practical tips (such as do's and don'ts for spray tan) you can quickly and confidently learn the best way to tan and be well on your way to a Greek Goddess or Sicilian Prince status in a short matter of hours, minus the stress.
When it comes to achieving a healthy, sun-kissed glow, it's a two part thing: on the one hand it's about knowing what fake tan to buy and on the other it's about learning the best way to tan effectively.
Learning how to fake tan properly is definitely an art form but before you can even attempt to master it, it can often be confusing. Do you use a tanning mitt? Do you exfoliate? Is a lotion, mousse or spray tan better? How long do you leave it before showering? What about the after care? Should you moisturise before fake tanning? What about fake tan before and after photos… is that a thing now? With so many questions, we at Three Warriors want to make fake tanning as simple, stress-free and streak-free as possible, by demystifying all of the confusion and offering a practical guide to fake tanning.
In giving you the lowdown on 'what to do' and 'what not to do' when it comes to fake tanning, we aim to alleviate the stigma and offer you a faux glow experience that's seamless and provides practical tips on the best way to tan so that it can become a self care ritual you actually look forward to. 
But first the basics… let's talk sourcing the ideal tan and then we'll talk more on the best way to tan.
Choosing the right fake tan
It all starts with finding the perfect shade of gold. You want a tint that provides a naturally tanned complexion and gives those around you no clue that you've actually been fake tanning.
Think about choosing an organic and natural tanning product that absorbs well, gives you a sun-kissed glow and contains no hidden nasties (such as chemicals)... that way you're complimenting your body, not working against it.
At Three Warriors (TW) we care about what goes into our products and want to ensure they allow for the best way to tan safely. From the fake tanning agents through to individual ingredients that hydrate, nourish and protect skin, each is a plant-based derivative sourced from mother nature, designed to empower the body and support healthy, supple and glowing skin.
Within the range, there are three core products to choose from: a gradual tan lotion, a mousse and a spray tan solution, with each offering a different application process to suit your needs.
For those fearful of orange hands that come with fake tanning, we recommend a self-tan mousse and mitt option. Using a mitt minimises your odds of a potentially streaky fake tan or chance of accidentally applying it somewhere you'd rather not have a faux glow. Leave for 1.5 hours for a light hint of a glow and all night for a deep, dark glow.
Alternatively, if you're more of a low maintenance guy or gal that's about getting it done fast and would prefer to not risk it rubbing off on your clothes or hibernating inside while it develops, then a gradual tan lotion is a great option. It develops in two hours, won't stain clothes and all you need to do is apply two hours beforehand.
Or for those who work in beauty or have access to a spray tan machine, the spray tan solution is an amazing way to build a long lasting glow, whether for a holiday or a boost to get you through a big week.How long does a spray tan take to develop? As our TW spray tan solution is a light-weight, non-streaky, violet based formula that lasts for a week we recommend ideally leaving a five hour window for it to develop fully before showering. 
For more in depth answers for 'how long does a spray tan take to develop?' see the product page here.
How to fake tan
Now you've got the lowdown on the best self tan product to suit you, let's talk do's and don'ts of self tanning and the dos and don'ts spray tan wise so you can feel confident about the best way to tan.
Do:
Exfoliate: the number one best way to tan well is to scrub the body and face well first. When it comes to a fake tan before and after, nothing says flawless tan like a well executed pre-scrub and smooth base. Exfoliate the body with a glove and quality scrub (such as our TW sand scrub) to remove dead skin cells (often responsible for a blotchy tan) and create a natural canvas for the perfect fake tan base.
Prepare your hair: ...removal that is! If you wax, aim to do it at least 24 hours before or if you prefer shaving opt for 12 hours before fake tanning to avoid irritating the skin. Any attempt to remove hair post-glow can strip off your fake tan -  and who has time to scrub and start all over again?!
Shower first: you wouldn't apply makeup onto an unwashed face before starting the day, so it's important to treat your body the same away. Bathe your body with fresh water and just at the end, give your skin a quick blast of cold water. Cold water helps shrink your pores and reduce the chance of them becoming blocked when fake tanning.
Look for the right light: while the bathroom may be a go-to location for fake tanning, if it has no natural lighting or only a dimly lit glow that doesn't reflect your true skin tone then opt for a well lit area. Ideally you need some form of privacy and a mirror and floor covering on hand (or a tiled area) - this is particularly important when it comes to dos and don'ts spray tan wise, otherwise you may end up with stained walls and an unhappy landlord or partner.
Be aware of time: if time is of the essence… i.e you've just locked in a date for that evening,  we recommend a spray tan for efficiency and no fuss. How long does a spray tan take to develop on average? Only 1.5 hours with Three Warriors Spray Tan Solution, you're welcome!
Go all natural: by this we mean no deodorant, perfume or moisturiser. Before fake tanning, make sure skin is product free and application ready. If your skin absorbs products before tanning, there is a chance it may affect the development of a smooth, streak-free glow.
Use a mitt: if you're all about mousse or would just rather not have to scrub your hands when fake tanning, a mitt makes for a seamless self-tan experience. Just add two pumps of mousse to the mitt and apply the tan using a circular motion. 
Treat your hands, feet, knees and elbows with care: it doesn't matter if you're using your hands or a mitt, make sure to pay careful attention to these areas to avoid any obvious tell-tale signs of fake tanning. In terms of dos and don'ts spray tan wise, only lightly sweep the tan gun across the front of hands, but ensure you splay fingers wide to expose the spaces between to the tan.
Extend your tan: avoid the dreaded process of a whole new fake tan before and after process and opt to add longevity to your current tan instead with moisturiser or gradual tan. Our gradual self tan makes for a great extender if you need to keep your tan topped up for a final few days.
Take a fake tan before and after snap: This isn't just for our vanity, although we do love a tag on Instagram (tag us @threewarriors!). No, in this instance we're talking about you! By indulging in a fake tan before and after a selfie it's great motivation to inspire you to commit to a weekly fake tanning ritual and it tends to boost your body confidence too. Double win!
Don't:
Wear clingy clothes after: rule no #01 when it comes to fake tanning, always opt for loose and free flowing clothes after applying tan. Whether that's a silk or satin gown, dress, baggy pants, a loose t-shirt or wide leg pyjamas.
Rush the process: the best way to tan is to commit to the developing time as recommended by the directions of use. A self-tan mousse or face tan mist can develop within 1-2hrs. However if you want a tan that lasts longer such as for the duration of a holiday, if wondering how long does a spray tan take to develop, you are looking at anywhere between 1.5hrs to 5-6 hours depending on depth. We recommend sleeping in it overnight to maximise glow time.
Shower too soon or for too long: always read the directions on the label and opt for the bare minimum amount of waiting time before showering, if not longer. Also, when you are ready to wash off, take a short shower and towel dry after.
Skip the exfoliation process: unless you want scaly skin and an uneven tan, then a good scrub is part and parcel with the best way to tan. But hey, if it means your tan lasts longer…
Apply moisturiser, deodorant, perfume or any other body product before fake tanning: it's not uncommon for people to ask us should you moisturise before fake tanning? In theory it sounds like a great way to prime skin so it's not dry before fake tanning, but the reality is it will seal the pores when you actually want them open up so the fake tan can absorb first.  
Attempt to coat every finger and toe: you may want a flawless all over faux glow, but there's nothing more cringe than a build up of tan between knuckles and toes. Lightly sweep the tan around the top of the hands and feet, but leave the detail around fingers and toes tan-free for a natural look.
Apply a body based tan to your face: unless the product is designed with the face in mind, a generic body tan probably isn't the best way to tan the face. Instead opt for a product that is customised to give your face a sun-kissed glow. We recommend a light mist like our Face Tan Aqua Mist - it's easy to apply and absorbs gently into skin. Don't forget to apply to the neck and decolletage for the best way to tan the whole body so it looks completely natural.
For more tailored tips on fake tanning check out our guide here or to learn the best way to tan well in summer see our fake tanning essentials blog here.