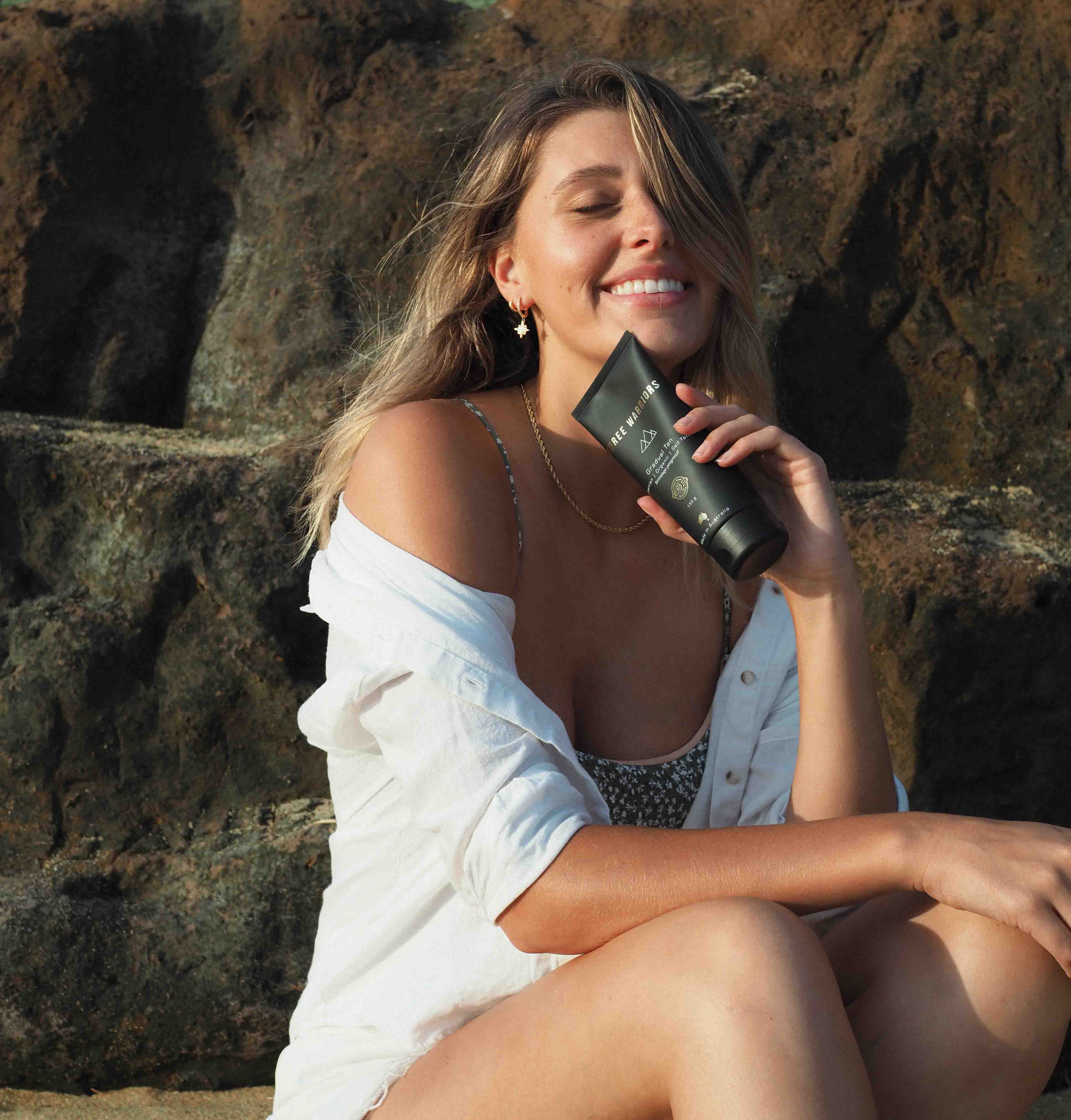 Why Is Olive Oil Good For Tanning?
A hero ingredient in our tanning formulas, we talk more about why Tasmanian olive oil is not only an essential part of our ingredient list but we also share how we use olive oil for tanning the sunless way!

Olive oil is the new liquid gold when it comes to beauty and radiant glowing skin.

A plant-based ingredient usually reserved for cooking oil and as a staple in the Mediterranean diet, now is gaining recognition as a superfood that our skin can't get enough of too.
With antioxidants that help fight premature aging along with hydrating vitamin E, olive oil is a powerhouse plant ingredient that should not be overlooked when it comes to a skin care routine.

Which is why, at Three Warriors we've infused the purest of Tasmanian olive oil for all tanning formulas.

Rather than reaching for olive oil from the kitchen cupboard and lathering it on skin hoping for instant hydration, we've consciously incorporated the purest hand pressed Tasmanian olive oil into our tanning formulas to give you glowy, dewy revitalised skin - sans the sticky and oily effects.
To learn more about why olive oil for tanning is so powerful for skin we've created a short guide to the active ingredients and benefits of olive oil as a cult skin saviour and how olive oil is good for tanning the safe, sunless way.

Read on for the benefits of olive oil for skin alongside a Q&A about olive oil for tanning.

3 Active Ingredients in Olive Oil And Their Skin Benefits
We always turn to science to ensure we're only bringing the most conscious and informed information to our community. Read on below for why olive oil for tanning is so beneficial and supportive for skin.
Vitamin E - Hydrates and protects 
Want dewy rather than dehydrated or damaged skin? Olive oil is one of the most naturally high sources of vitamin E - with one tablespoon of high quality extra virgin olive oil alone said to contain 13 per cent of our daily vitamin E needs, according to Healthline.

Another reason skin ritualists love vitamin E is for its anti-inflammatory nature. It's found to reduce UV damage while nourishing and protecting skin from free radicals at the same time.
With our face tan - Three Warriors Face Tan Aqua Mist - containing pure Tasmanian olive oil you can spritz your way to supple skin in under a second.
Healthy fats - Prevent aging 
There's a reason why everyone is so healthy and aglow over in the Med, olive oil is considered one of the most important components in the Mediterranean diet.

With an abundance of healthy monosaturated fatty acids found in olive oil, studies show it can reduce oxidative stress, insulin resistance and inflammatory processes often associated with skin photoaging.

Squalene  - Plumps and promotes youthful skin
A natural supplement for restoring vitality in skin, squalene is 'extremely hydrating' according to Byrdie and when combined with above vitamins,  can aid with decreasing oxidative stress on the skin (which could lead to slowing down skin aging).

With JLo, the queen of anti-ageing, releasing her own skin care line featuring olive oil and hyping the benefits of squalene, the proof is in the oil… there's no glow quite like a JLo glow.
The Origin Story Behind Our Olive Oil
An ode to our origin state, the Tasmanian olive oil used in our Three Warriors tanning range is hand picked, pressed and extracted direct from the land and sourced from remote Flinders island.
The olive oil we use is a particularly sentimental and lovingly selected ingredient - with founder Corbin spending months trying to source local organic olive oil and after a long journey finding the purest liquid gold of all by travelling all the way across to the remote Flinders Island.
Harvested by two women in their 70s, each olive is picked with love and care then hand pressed by the two women themselves from Flinders Island Olives and it is the only Tasmanian olive oil that has been accredited as organic under the Organic Food Chain (OFC) certification.

You will be hard pressed to find any other tan brand that takes this level of care, consciousness and consideration for local community support and credentials into production decisions the way we do.
3 feel good factors behind our olive oil:
Certified organic olive oil by the Organic Food Chain.

Sourced direct from local producers in Tasmania

Hand picked and hand pressed olive oil from

Flinders Island Olives.
Olive oil for tanning Q&A
We're all about sun safety and only promote a sunless tanning approach alongside low tox sunscreen application. So, while it's not uncommon that older generations used to turn to oil (be it tanning oil or olive oil) for direct tanning in hopes of getting a sun derived tan - we've wised up to skin care and the damaging effects of sun exposure and don't endorse this old school approach.

But we're happy to clarify our spin on olive oil for tanning.
Does olive oil help you tan?


If you're talking about sunless tanning, then sure, if you want to know if olive oil is good for tanning we can confirm that yes it can help by moisturising skin and allowing it to hydrate and absorb Three Warriors tan rather than skin drying out and tan rubbing off easily. Does olive oil help you tan in direct sun? No, we never promote direct sun tanning and oil over SPF.



When should I consider using olive oil for tanning?
Olive oil is a beautiful ingredient to add to any tanning ritual. We recommend sourcing a product with olive oil already infused such as our Three Warriors Face Tan Aqua Mist that contains pure Tasmanian olive oil within it, so rather than attempt to lather olive oil in post application you can enjoy the benefits as part of your fake tan ritual.

Can olive oil be used as tanning oil



No, not on its own. Using olive oil as a way to tan under the sun is damaging and harmful for skin. But can olive oil be used as tanning oil within a face tan oil or as a key ingredient in any organic sunless tan? Yes it can. At

Three Warriors

we use olive oil for tanning products such as our

Three Warriors Face Tan Aqua Mist

  and other oils such as avocado oil for

Three Warriors Gradual Tan

and

Three Warriors Self Tan Mousse

.