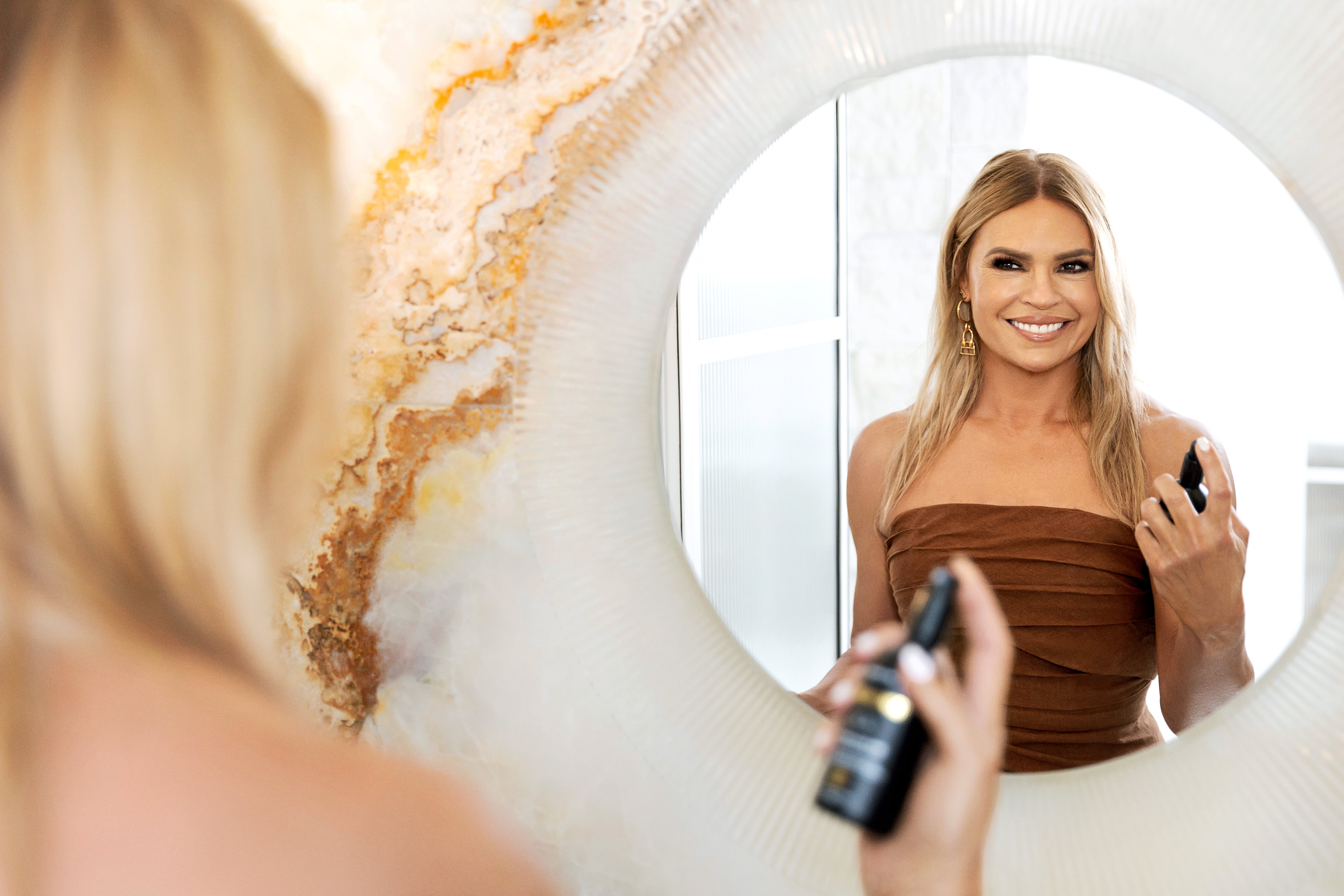 What Is Tanning Water And Why Is It Trending Right Now?
It's the most hydrating tan you will ever get… learn what is tanning water and why you need to get ahead of the trend and start spritzing in prep for Summer!
A drink that hydrates skin and gives you a tan at the same time… yes you heard right… meet tanning water.
Tanning water is the latest skin saviour making a safe tan achievable and effortless at the same time.
With one spritz you can now achieve a safe glow that hydrates and nourishes the skin, no sun or post aloe vera care required. Sounds rather appealing, huh?
A time saver with added hydration, tanning water infuses high grade H20 with dihydroxyacetone, a tanning agent to create a misted spray that is simple to use and boosts the skin's vitality at the same time.
With homegrown beauties like Sonia Kruger, Ashley Hart, Sam Frost and Roxy Jacenko, all devotees of tanning water, in particular our Face Tan Aqua Mist, it's already set to be the hottest 2 for 1 tanning product this Summer.
Keen to learn more about what tanning water is and why you should add it to your beauty arsenal this season? We've compiled a little guide to all the info you need on tanning water.
As a natural tan brand, we're all about transparency, so we want to give you the bare breakdown on what is tanning water so you can feel assured in knowing for yourself, is tanning water safe?
Read below to answer all your burning questions including: what is tanning water, how long does tanning water take to develop, does tanning water stain sheets etc.
What Is Tanning Water?
At a base level, tanning water is a fusion of water and dihydroxyacetone.
But if we want to get a little more technical…and you ask what is a tanning water that's considered high quality? Then it should naturally be one rich in minerals and electrolytes and packed with high levels of antioxidants and hydrating ingredients, that are preferably plant-based.
Cue to our very own tanning water, the Three Warriors Face Tan Aqua Mist. A tanning water designed for every day use for face, neck and decolletage, our face tan water ticks all the above boxes and more.
Why Three Warriors Tanning Water?
Rather than coating your skin with toxic chemicals and tanning agents that are artificial and only touch the surface layer, we'd rather your skin glow organically from the deep layers of the dermis up.
By turning towards an organic tanning water made of plant based ingredients you can feed your skin the nourishment it needs so you can develop a glow from the inside out. 
Our tanning water is unique as it contains pure Tasmanian Water sourced in the Hartz Mountains that are rich minerals and electrolytes alongside hydrating plant based ingredients including rose oil, aloe vera and Tasmanian olive oil that naturally hydrate, soothe and soften the skin.
Designed as a fine face tan water, the best part of Three Warriors Face Tan Aqua Mist is you can bring on a fresh-faced glow quickly. One spritz in the AM can have you glowing by lunch.
Formulated for the face, neck and décolletage, our tanning water is the ultimate pep up that will transition you from the depths of dull winter skin to an instant spring in your step, dewy glow in seconds.
Is Tanning Water Safe?
The short answer? Yes, it's safe to say if it's a natural or organic tan product that heavily features water, a natural element, then you're onto a good thing.
Tanning water that features minimal chemicals or toxins (or even better none), such as our Three Warriors Face Tan Aqua Mist will always naturally be safe for skin.
Any time you swap direct sunlight for a tanning water, you will get a light glow minus the harmful UV rays, so when it comes to whether you spritz or bake in the sun, a spritz is always the way to go.
How about the specific ingredients though, is tanning water safe chemical wise?
In terms of the tanning agent used in natural or organic tanning water, such as our own face tan water, the good news is the primary ingredient used -dihydroxyacetone - is a natural sugar based derivative. 
This means it's not an artificial toxin or chemical that can cause harm, and as such, it makes it pregnancy safe and supportive for those with naturally sensitive skin too.
How Do I Use Tanning Water?

There's a reason tanning water is trending… it's quite possibly the easiest tan you'll ever apply.
Much in the same way you have a shower to rinse water over skin, it's essentially the same, but in this case, you allow the water mist to cover the body and soak into skin, post-shower.
How does self tanning water work exactly? As a water based formulation it's best absorbed by the skin through the mist form, so it's as simple as a spritz and air dry to soak, absorb and glow.
As for how long does tanning water take to develop? This could be the best selling point…as little as three hours. Essentially in the time you've commuted into work, fired off some emails and got ready for a Friday long lunch, et voila! Dewy and ready to glow on.
While we can't speak for all tanning waters, as for how does self tanning water work? in terms of our Three Warriors Face Tan Aqua Mist application process it's a dream.
Simply cleanse and dry skin, hold the bottle 30cm away from face, spritz the face tan water, exhale, allow the tanning water to soak into skin and pores, add makeup (or stay bare!) and go about your day, fresh faced and radiant. The face tan will develop in three hours or less.
For those inclined to spritz before bed and wake up fresh from a beauty sleep the same regime applies. 
Ps… if wondering, does tanning water stain sheets? It's primarily H20 so we're happy to report, no. 
However, if going to bed the question of 'does tanning water stain sheets?' is likely to keep you up at night out of fear you'll fake tan your white egyptian cotton threads, you can always play it safe and swap pillow slips on the days you're tanning to keep your sleep sound, just in case!
Additionally, while it is a natural water based product do follow the recommended expiry. For those wondering does tanning water expire? While not a hard yes, to support the skin in staying supple and hydrated always read the recommended guidelines for safe product use.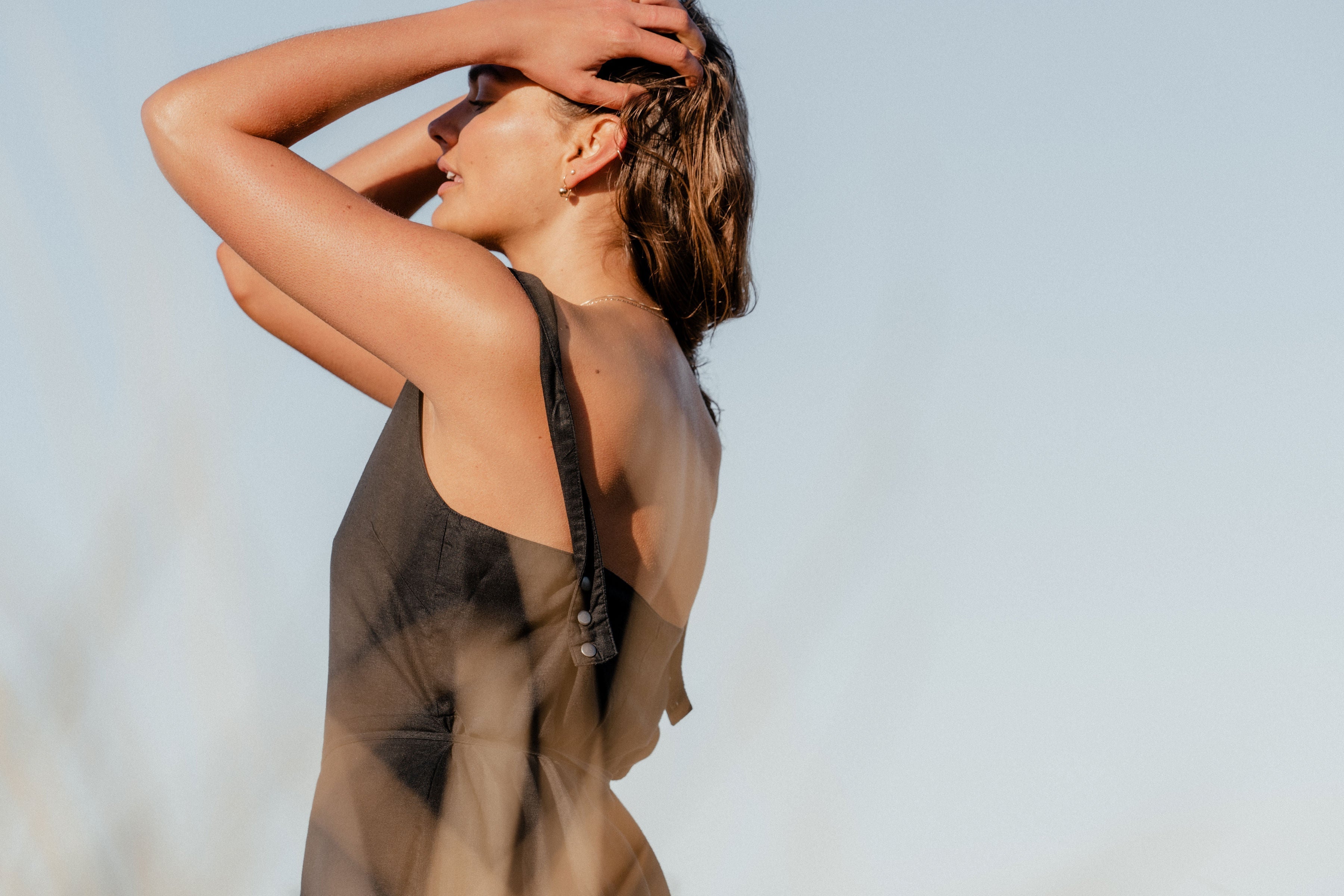 Fake Tanning Tips: Avoiding An Orange Tan
It's pretty incredible that, thanks to the wonders of fake tan, we can achieve a bronzed, sun-kissed glow all year long without spending hours destroying our skin under UV rays. That glow-in-a-bott...
Read more