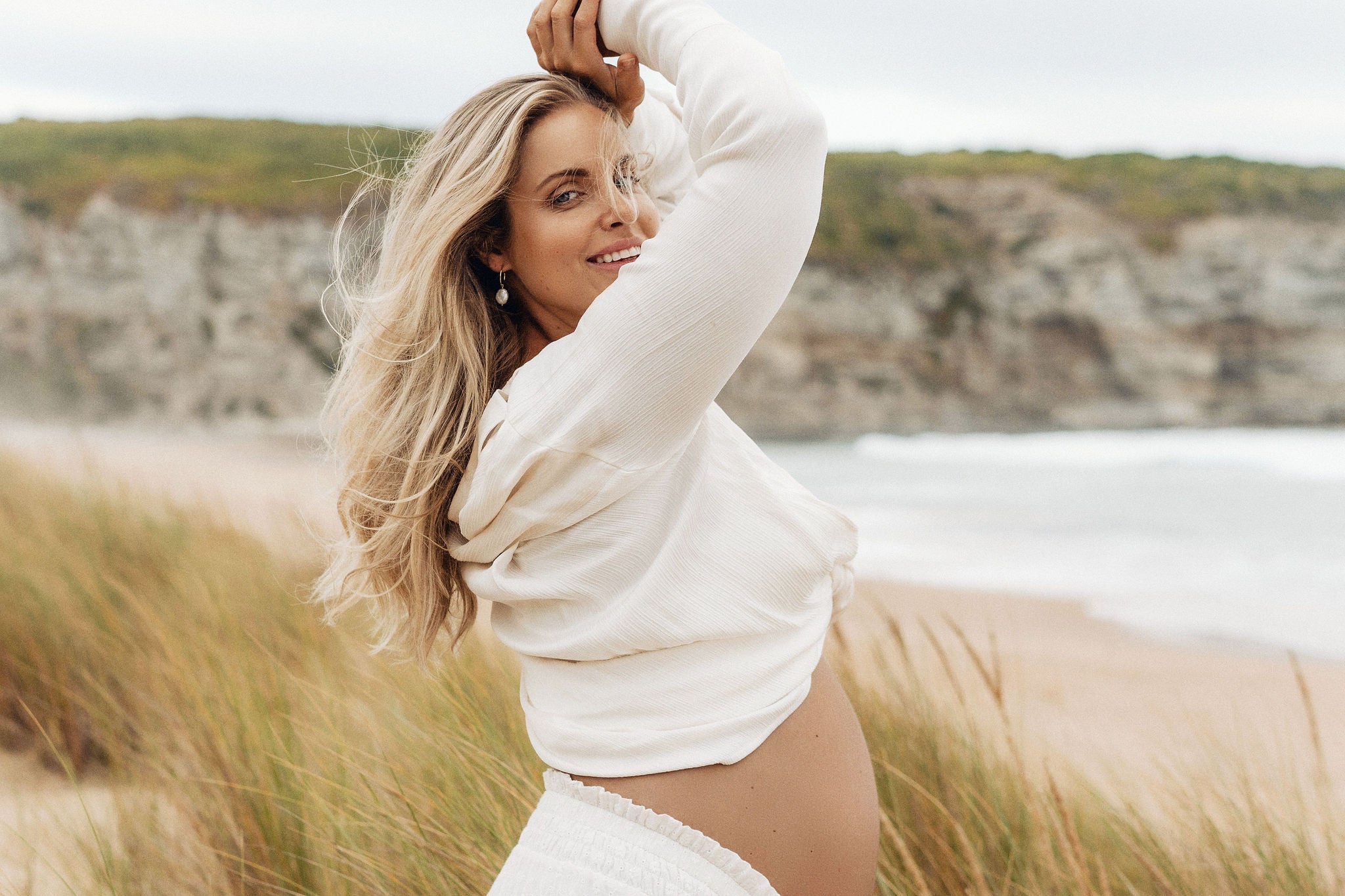 Keira Rumble Entrepreneur and Mum Shares Her Secret To A Pregnancy Safe Glow
Glowing skin has long been described as a natural perk of pregnancy but often that elusive glow is much harder to come by than you'd think… but not for natural beauty Keira Rumble.
With her signature sandy blonde beach hair and peachy, golden skin that gives just the right amount of sunkissed, the beauty influencer, wellness entrepreneur and mum to one (soon two!) Keira Rumble somehow manages to pull off serious glow goals, even amidst her busy mum-meets-entrepreneur-meets pregnancy life and while living with HG during her pregnancies.. 
So just how does she do it? Well, as a formidable force in wellness, who has spent the best part of her adult years working through her own health battles and the past six specifically building two clean beauty businesses - Habitual Beauty and Krumbled Foods - focused on skin and gut health, Keira is a expert on understanding how wellbeing (and attaining a glow) is a process that occurs both on the inside out.
Which is why, among other reasons, she's a natural fit for us as one of our new tan ambassadors.

Not only does she glow like no one else and live and breathe wellness, but she's a mumma of one
(with another bub on the way) who not only keeps a well maintained glow but truly cares about what she puts into her body and skin and how she can best support keeping her baby safe in pregnancy.
With a personal history of seven pregnancy losses and an ongoing battle with endometriosis (a condition that affects one in nine women) all before a three year fertility journey leading to the birth of her son Hunter, no one is arguably more cautious and mindful about what they place in their body and on their skin than Keira.
Now in her second pregnancy, Keira has partnered alongside us as a pregnancy-safe tan ambassador to promote how healthy a non-toxic, natural, organic and chemical-free tan can be for mum and bub.
As founder of Habitual Beauty, a clean beauty skincare company that also works with Australian organic, plant-based ingredients, Keira is aligned with our ethos in choosing mother nature first and foremost.
In working only with natural and organic ingredients we are eliminating any risk of harm and have followed all approved certifications including: Australian Certified Toxic-Free board,  the Organic Food Chain and both certified Vegan and Cruelty-free requirements to ensure all women feel safe throughout their tanning experience with us.
Labels aside, we also want to support newly expecting mumma's to feel nurtured and inspired to be able to get an accessible glow, even on days where the morning sickness, insomnia or juggling act means you need a little help faking it.
Which is where Keira comes in: as a tan ambassador she is here to support us and you in knowing it's okay for new mums to need a little loving help in the way of clean organic skincare and tanning products, on those days you need a pep up.
A lover to three of our signature tanning products: the face tan, body tan mist and self-tan mousse, Keira integrates and rotates between each to ensure she can feel confident in the boardroom yet aglow as a mum.
So if you're on your pregnancy journey at any stage (pre-conception to post-natal) and are looking for a clean tan that will give you a healthy glow minus the nasties, follow along for Keira's personal pregnancy-safe tanning guide.
By following in her footsteps we hope you can also achieve a confidence boost, feel aglow and rock a smock dress or maternity outfit and breast feed with ease and grace, just like Keira.
Continue reading for Keira's personal pregnancy safe glow tips below.
Keira's Secrets To A Healthy, Pregnancy Safe Glow
Start simple with a spritz


"Whether I am short on time, tired from too many sleepless nights getting up to my son, or feeling washed out from pregnancy symptoms, just knowing I can add a spritz of

Three Warriors Face Tan Aqua Mist

is a saving grace."





"Depending on how my day is going, I either add a spritz on top of skin to set my makeup and to build a healthy glow before a meeting or if I get time to wind down and indulge in a mindful skincare ritual in the evening, I will apply the face tan before bed so I can wake all dewy and fresh."




Make friends with mousse


"A self-tan mousse that can give the same colour, depth and longevity of a spray tan - yet without the nasty chemicals or commute to a beauty salon - is the kind of mum-friendly product all women should have."




"Unlike other mousses I've tried in the past pre-pregnancy, Three Warriors Self-Tan Mousse is the perfect green tint base that allows you to build to a natural golden tan minus stickiness, streaks or nauseating scents (a plus when trying to keep morning sickness at bay)."
"On a busy week where I may have to travel for business meetings, do a brand photoshoot or media appearance, the Three Warriors Self-Tan Mousse saves me. I apply it on a Sunday and it sees me through the week no matter what last minute meeting or camera moment may come up."
Build a good base
"As a beauty entrepreneur I am overly cautious about what I put on my skin and even more so during pregnancy, so when using fake tan I always like to keep in mind the ingredients I am placing on my skin, particularly when layering my tan."
"On the days where I am not starting from scratch with self-tan, I like to keep my tanning routine light and only use products that rejuvenate and support my skin and base rather than add to a build up."

"With this in mind I adore Three Warriors Body Aqua Mist: it's light and hydrating like the face tan mist, allows for an easy full body sweep (to keep tan coverage even I also apply with an Eco-friendly Tanning Mitt) and will keep my base coat fresh minus time and effort!
"Most importantly it contains Tasmanian Spring Water and Tasmanian Marine Collagen - and for anyone who knows me or my brands will know collagen is my bread and butter - it's my number one skincare secret!" 
Love the skin you're in
"Tanning rituals aside, I also believe as new mumma's it's so important to nurture ourselves and to take time to acknowledge how much you do and that you too deserve to feel good. Even on days where you may be sleep deprived or juggling the new adjustment to parenthood!"

"While it's not a tan specific tip: self care and positive affirmations are another secret to how I continue to stay aglow. When you do things that feel good on the inside it reflects on the outside."

"Whether it's taking time to apply Three Warriors Self Tan Mousse after a nice warm shower, reciting an affirmation, drinking a delicious dutch chocolate smoothie using Habitual Beauty Advanced Skin and Gut Health Collagen Elixir or spending quality time with my son, each little thing adds up and make every day a little more meaningful and a whole lot more glow-worthy."
Keira recently joined Corbin and the Three Warriors team in Tasmania as part of our new partnership where she adored the pristine natural landscapes, food and produce and had the chance to see how our product is made and visit our warehouse directly.
As a new ambassador she will be part of an exciting new Tasmanian campaign soon to be announced so stay tuned on socials and our blog here to follow us on the journey as we unveil it soon in the lead up to Mother's Day.
For more on the pregnancy-safe tanning products Keira uses see our Three Warriors organic tan collection here or to learn more about what makes it pregnancy safe follow our blog guide here.