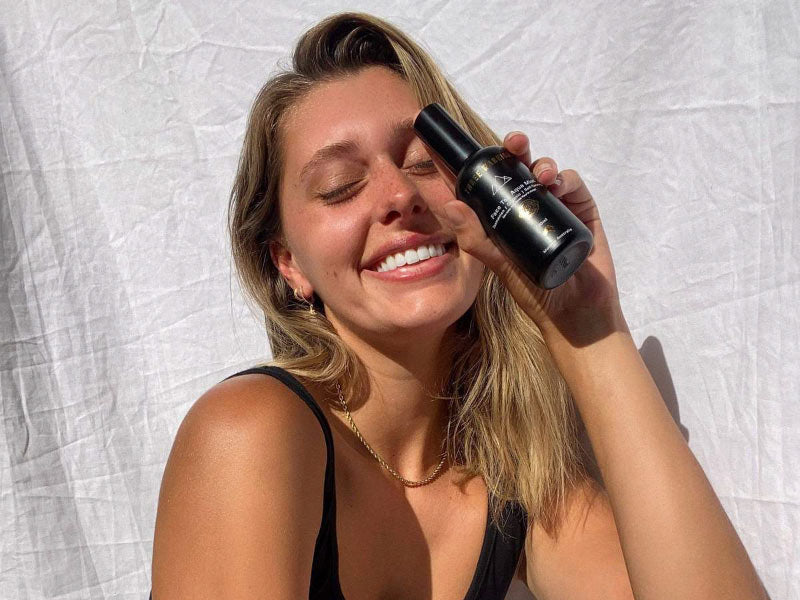 How to Apply Face Tan Water
Not all of us are born with the majestic olive glow of Jessica Alba or Chrissy Teigan. Luckily, there are now incredible organic tanning products that can help every woman achieve a radiant complexion. 
You're probably familiar with the tanning booth and tanning lotions. But have you heard of tan water from Australia? Face tan water is a unique product rich in minerals and electrolytes that your skin will love. It's easy to apply and provides a natural-looking, healthy tan.
Keep reading to learn more about tanning water and all its lovely benefits.
What Is Tanning Water?
Tanning water is a mist solution that you can apply to your face and neck. Three warriors Tan Water is made up of natural and organic ingredients that help hydrate and soothe all types of skin. Some of the ingredients the tanning water include rose oil, aloe vera, and Tasmanian olive oil. Each of these provides antioxidants to protect skin from UV rays.
Tanning water like Aqua Mist Face Tan comes in a small spray bottle for ease of use and convenience. Face tanning water could be used as body tan water but Three Warriors has other products specifically designed for the rest of the body. Take a look!

How to Apply Face Tan Water
The first step to applying tanning water is to make sure your face is clean and dry. You can use your normal skincare routine to wash your face but make sure it's thorough.
Consider using the Three Warriors Tasmanian Sand Scrub as an exfoliate before applying tanning water. The scrub removes dead skin cells on the surface giving you the perfect canvas to start with tanning water. Cleanse your face twice before applying tanning water to make sure there is no leftover makeup or face oils.
Next, hold the face tan mist about 30cm away from your face and spray. Wait three to five minutes for the tanning water to work before applying any other products on top of it. The tanning mist works gradually over about three hours. You do not need to rinse it off like you would other tanning products.
For face tanning water that is not a mist or spray, you still need to start with a clean, dry face. Then, put about one teaspoon of tanning water in your hand. Apply to your face evenly using your hands. If you're not comfortable using your hands you can use a cotton pad.
Don't forget to apply to the eyelids, hairline, ears, and neck to ensure the most natural look. When you're done applying, wash your hands with soap and warm water.
You can use tanning water several times a week to build up a gradual tan to your liking. And if you're looking for tanning products to compliment the face tan water, check out this all-in-one pack with all your tanning product needs.

- Check out our Guide to all things fake tan!


What Makes Face Tan Water Unique?
What makes face tan water different from all the other creams, foams, and lotions? Well, to start it's hydrating! Tanning water is made up of good 'ole H2O and glow. If you experience breakouts, clogged pores, rashes, or dry skin from normal tanning products you have to try tanning water.
Tanning water dries gradually but it will not transfer to your clothes or accessories. Say goodbye to waking up with a pillowcase covered in tanning products! 
Face tanning water is also unique because it's designed for the sensitive skin on your face. The all-natural ingredients will make your skin healthier rather than stripping it of natural nutrients.
And finally, face tan water is unique because anyone can use it! Because tanning water works gradually, it works for all different skin tones.


Benefits of Face Tan Water

Face tan water acts as a tanning agent and a skin-care product in one, saving you time, money, and the hassle of a complicated skincare routine. Face tan water reviews confirm that this amazing product reduces redness, fights acne, and even has anti-ageing properties. It reduces the appearance of fine lines leaving a soft, smooth, even appearance.
Another benefit of using Three Warriors face tan water is that it's all-natural, vegan, and cruelty-free. You can feel good about using a product that is locally sourced in Australia. It's free from harsh chemicals, petrochemicals, and parabens.
Tanning products or sessions at a tanning salon can be expensive. When you use face tanning water you're actually saving money! Applying the appropriate amount a few times a week will cost you less than AU $8.00 a week.
How to Add Tanning Water to Skin Care Routine
You've already gotten the step-by-step instructions to apply face tanning water. But how does it fit with your other products and routine? Great question!
For best results, use the tanning water as a base layer (applied to dry, clean skin). After you've waited a few minutes you can apply your makeup over it. You will probably not need a bronzer on top of the tanning water. If you apply tanning water in the morning it will gradually take effect over the next few hours but the results will last longer.
You can wash your face and use a cleanser at the end of the day without worrying about losing the face tan. Try to use tanning water at least two to three days a week for best results.

- Evolve the primal ways that you remove fake tan - Read Here.
Buy the Best Face Tan Water
Three Warriors is a company that believes in its organic, natural products. Protecting your skin is our priority. You can achieve a radiant glow without all the chemicals!
The easiest way to purchase face tanning water is to buy it online and ship it to your home. Or you can search the nearest Three Warriors retailers here. If you need more than one product, consider buying in a pack to save money.
If you like our face tan water and want a similar product for the rest of your body, take a look at our self-tanning mousse. It's time to get that perfect glow from head to toe!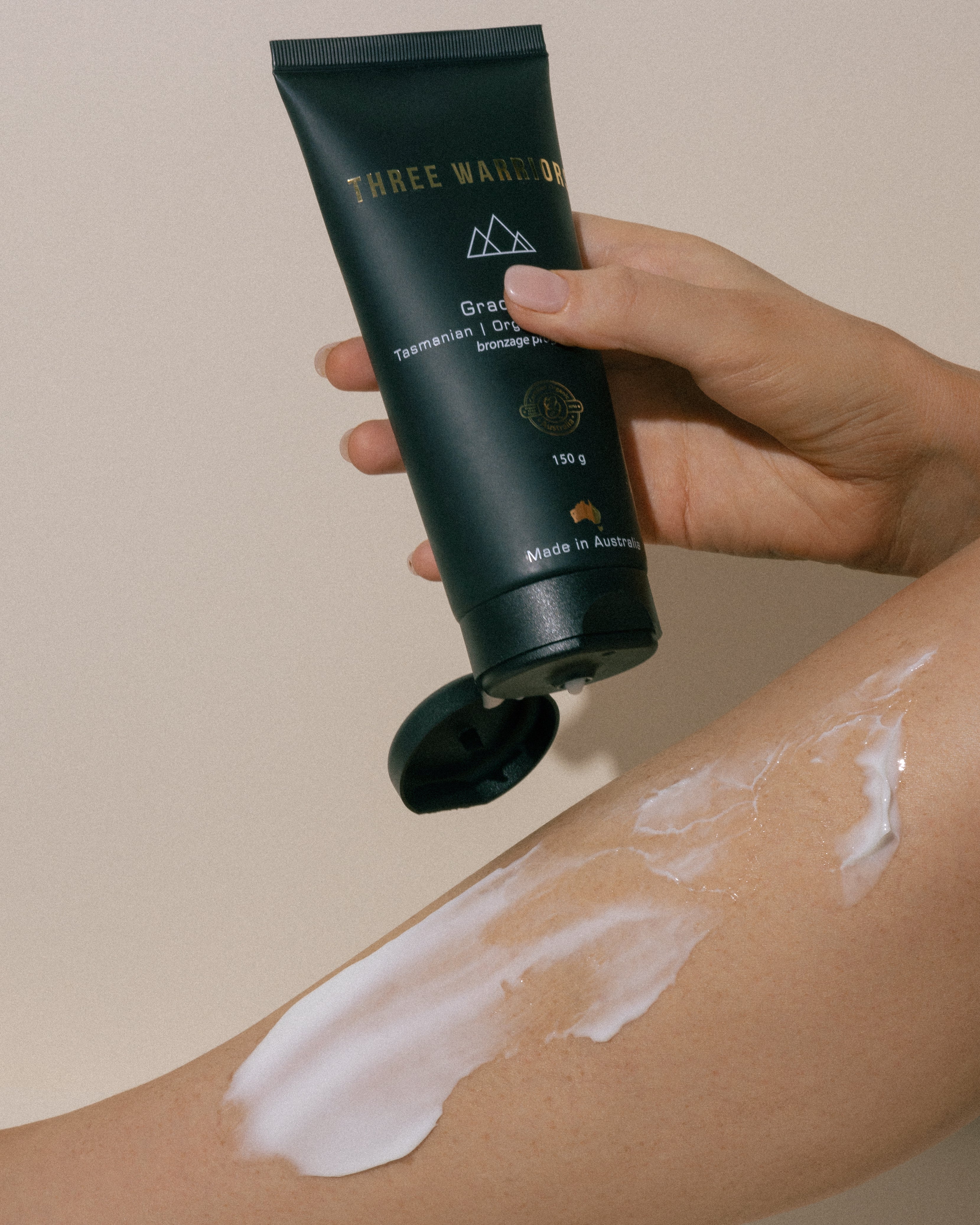 Fake Tan | Your Guide and FAQ's
In 1923 style icon Coco Chanel enjoyed copious amounts of sunshine on a Mediterranean yacht. When she disembarked in Cannes, the world went crazy over her bronzed skin. Her accidental tan marked th...
Read more