Can You Use Face Tan Water on Your Body
When it comes to self-tanning products, tanning mousses, sprays, and lotions have long dominated the space.
They're loved for a reason — they deliver a bronzed, glowy tan in a matter of hours, minus the sun damage.
But the new kid in town is winning over tan lovers thanks to its easy-to-apply formula and salon-perfect results.
Yep, face tanning water is making a splash in the tanning game, and we love to see it! So, what is face tan water anyway?
Can you use face tan water on your body? Is it really worth the hype? We answer your most-asked questions about face tanning water below. 
Face Tan Water: What Is It?
Face tan water is a tanning mist specifically designed for the sensitive skin on your face, neck, and decolletage. 
If you're familiar with fake tanning, you'll know fake tan and water aren't typically compatible. Avoiding water of any kind — rain, dripping water bottles, tears — is absolutely paramount while waiting for your spray tan or mousse to set in.
Once water hits your skin and those dreaded streak marks appear, it's game over. Incredibly, face tanning water throws these rules out the window.
Tanning water is quite literally H2O with a built-in bronze glow. It's considered the most hydrating tanning solution for your skin for this very reason. 
It's typically applied as a spray mist, although you may find some solutions that are applied with the hands.

Why Do We Love Face Tan Water?
Sometimes, that bronze glow-in-a-bottle invites unwelcomed friends onto our faces. For some, applying tanning mousses, lotions, and sprays to the face triggers breakouts and rashes. 
Formulas that aren't specifically designed for that ultra-sensitive skin may be a little too heavy or potent for that all-important face and neck area.
Face tan water is the solution we've been waiting for. It's lightweight, gentle, and hydrating, so it delivers that effortless glow without clogging the pores or irritating the skin. 
It's also a quick-drying solution, so you don't need to worry about encountering streak marks.
In fact, it doesn't require rinsing off at all! It'll take just a few minutes to dry, and then you're good to go.
Because it's so lightweight, it doesn't transfer onto clothing or bedding, either. We also love face tan water because it allows you to control how deep your tan is.
Applying heavy mousses or spray solutions to the face can be tricky — going too dark too soon is always a risk.
You don't run the same risk with face tan water because it's a buildable product.
It's designed to be used several times a week to work up to a deeper glow. 
Face tanning water is also super easy to apply and will have you ready to glow in just a few minutes. Let's take a look at how to use it.

How to Use Face Tanning Water
Preparation is key when it comes to achieving the perfect fake tan, so be sure to work your way through the below steps before you spritz away! 
Step 1
Follow your everyday cleansing routine and thoroughly wash your face, neck, and decolletage area. Give your skin a little extra love here, ensuring you're cleansing the skin of all make-up products, perfumes, oils, and moisturizers. 
Step 2
Use a soft, gentle exfoliant to sweep away any dead skin cells. We recommend the Three Warriors Tasmanian Sand Scrub, which is extra gentle and designed to be used on the face. Exfoliating the area will help to prepare a 'blank canvas' for your tanning water to work on. Note: once you've finished cleansing and exfoliating the skin, don't put on any moisturizers, face serums, or oils. Face tanning water works best on completely clean and dry skin. 
Step 3
Your skin is ready to get glowing. Hold your face tanning water about 30cm away from your face and lightly spritz the area. Be sure to cover all bases, including your eyelids, hairline, ears, and neck.  Wait at least 5 minutes for the water to dry before adding any other products (such as make-up) on top.
Step 4
You're good to go! The tan will develop over the following three hours. There's no need to rinse it off once you've sprayed it on — it'll work its magic all by itself! Use the spray 2 to 3 times a week to build up to your desired colour. 
Can You Use Face Tan Water On Your Body?
While you can technically use face tan water on your body (it certainly won't do any harm), we recommend saving the product for your face.
The formula is specifically designed to work as a tanning and skincare product all in one; it reduces redness, prevents breakouts, and gives the skin a smooth, even appearance.
While we definitely want to achieve this look from head to toe, it's best to save this face-specific formula for the more sensitive skin across your face, neck, and decolletage.  
So, which product should you use on your body alongside the face tan water? To achieve that same buildable, lightweight glow on the body, we recommend using the Three Warriors Gradual Tan. 
Much like the face tanning water, this gradual tan doesn't require rinsing and won't transfer onto your clothes.
You won't need to worry about streak marks either, thanks to the quick-drying formula. 
This product, which arrives in an easy-applying lotion form, is designed to be used multiple times throughout the week to work up to your desired glow.
Gradual tan allows you to control the depth of your tan just like your face tan water does. Using this combo together ensures the most cohesive and natural-looking tan.
For a more immediate, deep glow, the Three Warriors Tanning Mousse is the way to go. Applied with a mitt, this tan develops into a deep, sunkissed bronze over 1 to 5 hours. Just remember you'll need to rinse this one off!

The Best Face Tan Water
All-natural skin care products are gaining serious respect in the industry. Not only are they better for the environment and our furry friends, but they are often gentler on the skin. 
That's why our Three Warriors Face Tan Water, just like all of our tanning products, is crafted using all-natural, vegan, and cruelty-free ingredients. Our formulas are Certified Organic and certified by the Toxic-Free Safe Cosmetics Australia Council.
Each ingredient is sourced locally from our shores in Tasmania, Australia. It doesn't get much fresher than that!
Our formula contains rose oil, aloe vera, and Tasmanian olive oil, ingredients that work together to support skin healing and protection from sun damage and free radicals.
It's also rich in vitamins and plant extracts that nourish, hydrate, and soothe all skin types. 
The face tan formula is free from the nasties; you won't find any chemicals, synthetics, petrochemicals, or parabens on our ingredient list.
We're all about infusing the skin with the good stuff, and only the good stuff. As for the added bonus?
By opting for face tanning water instead of heading to a tanning salon, you'll be saving money on your tanning routine overall. Applying face tan water just a few times a week will cost you less than AUD $8.00 a week.
 
Face Tan Water Before and After
The results speak for themselves, so let's take a look at the face tanning water in action!
Getting That Glow, The Safe Way
Face tanning water is making an impact for all the right reasons. It delivers a lightweight, even tan to your face, neck, and decolletage, without the added sun damage or breakouts. 
While you can use face tan water on your body, we recommend saving it for the super sensitive skin on your face.
To give the rest of your body that sun-kissed look, go for our gradual tanning lotion instead. Explore all of the products mentioned in this article. 
Have a question for us? We'd love to hear from you! Get in touch with any and all of your tanning queries.   
Now that we humans have wised up about the dangers of sun-baking (a fitting name, given UV radiation essentially fries our skin), many of us have turned to fake tanning products to achieve that ...
Read more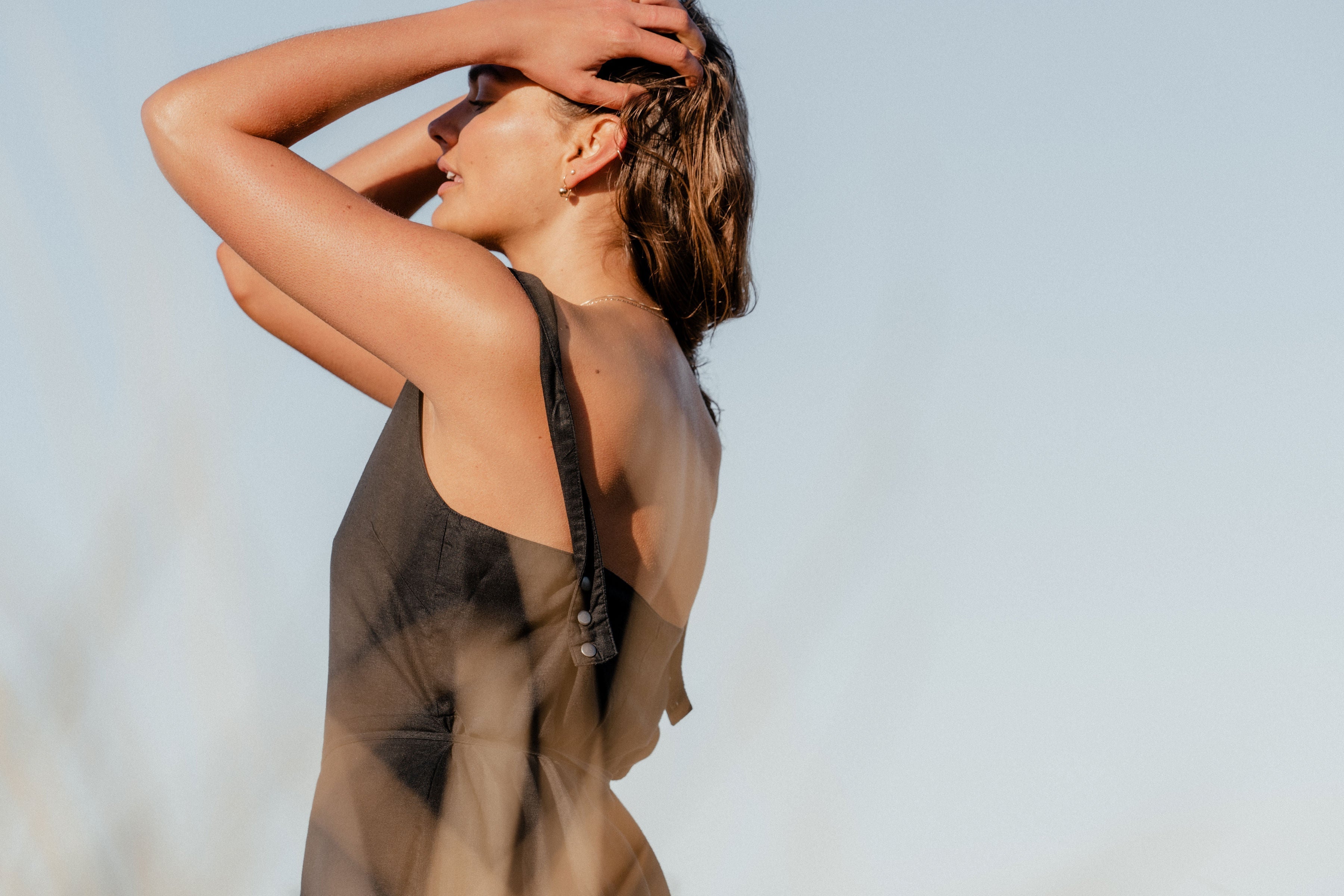 Fake Tanning Tips: Avoiding An Orange Tan
It's pretty incredible that, thanks to the wonders of fake tan, we can achieve a bronzed, sun-kissed glow all year long without spending hours destroying our skin under UV rays. That glow-in-a-bott...
Read more